Score Improvements - McElroy Tutoring
I keep detailed records of my students' progress. Here is a typical improvement chart for a McElroy student taking the SAT.
(
On average, my students improve

180 points

on the SAT,

5 points

on the ACT,

16 points

on the GRE,

120 points

on the GMAT and

12 points

on the LSAT.)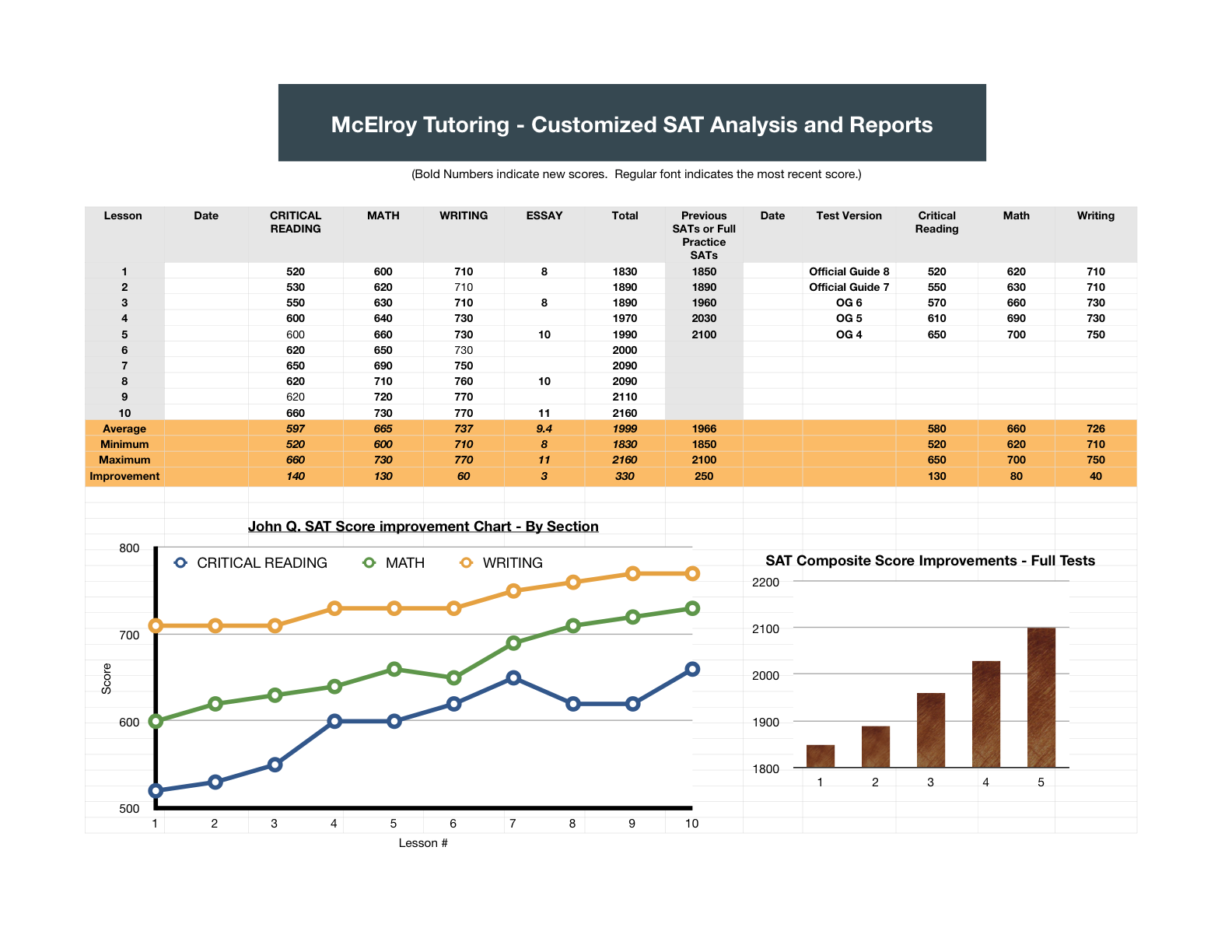 In the spring of 2005, I taught a series of SAT-preparation courses in Point Loma, California. The purpose of this class was to help my students find an affordable way to prepare for the SAT, and to quantify their score improvements under controlled conditions. (All students were required to take 4 full proctored diagnostic SATs.) The average combined improvement for these students was 254 points!
Student Score Breakdown for the June 2005 class
Student #

Previous tutoring?

Absences

Test #1

Test #2

Test #3

Test #4

First to Last Test Increase

Improve-
ment

Combined Improve-
ment

1

no

1

1310

1360

N/A

1450

140

140

180

2

no

0

1580

1780

1620

1700

120

200

200

3

no

0

920

970

1140

1230

310

310

310
Student Score Breakdown for the May 2005 class
Student #

Previous tutoring?

Absences

Test #1

Test #2

Test #3

Test #4

First to Last Test Increase

Improve-
ment

Combined Improve-
ment

1

no

0

1110

1330

1200

1430

320

320

350

2

no

0

1240

1470

1540

1480

240

300

340

3

no

0

1320

1450

1490

1420

100

170

230
Student Score Breakdown for the March 2005 class
Student #

Previous tutoring?

Absences

Test #1

Test #2

Test #3

Test #4

First to Last Test Increase

Improve-
ment

Combined Improve-
ment

1

no

1

1570

1790

1730

1850

280

280

340

2

no

0

2030

2190

2130

2150

120

160

190

3

no

0

2000

2020

2200

2210

210

210

230

4

yes

0

1370

1550

N/A

1610

240

240

290

5

no

2

1660

1800

N/A

1800

140

140

210

6

yes

1

1460

N/A

1640

1700

240

240

240

7

no

0

1090

1110

1330

1270

180

240

240

8

yes

1

1810

1950

1860

1990

180

180

190